Awards

& Projects

 The Cavendish High Academy is currently working towards a number of Awards and Marks. 

These include:

Rights Respecting Schools Award - GOLD

Best Practice with Teaching Assistant Award 

Leading Parent Partnership Award

Two strands of the SSAT Framework for Exceptional Education 

Artsmark

Our wonderful students and staff are currently working on a variety of projects and working towards gaining more awards and accreditation for all of the hard work we do at Cavendish.  
Three of our amazing students have won a prestigious award as part of the Liverpool Hope Story Writing project. We are very proud of their efforts. You can read their fabulous story below.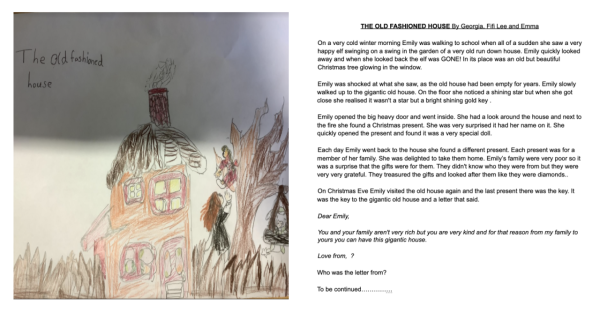 You may have seen in the local news the Signing Project that one of our amazing KS4 students, Lyla, has started.  Lyla has set herself a target of teaching sign language to 100 different businesses.  She has already been out and about in the area to start delivering the classes.  If you would like Lyla to teach some sign language to your business please do get in touch with us at school. signingproject@chs.academy.                                               To read all about Lyla's project click here - Signing Project 

We now have an Eco Council and are working towards the ECO Schools Award.  

We have five teachers who have achieved Global Teacher status.

The academy has been selected to develop Teacher Global Leaders. The campaign aims for students to take responsibility and raise awareness of the sustainable development goals through the actions of young people.

We are continuing to work with the British Council on their 'Connecting Classrooms' initiative and are currently working with 8 schools from England and Nepal

Post-16 students are currently :

working on the Mencap Employ Me programme and also the Around the World Challenge.

working with SENDiASS on a consultation on young people's views on Halton services.

It is planned as an additional workshop that our students will work with the Department for Work and Pensions (DWP) and Halton supported internships to continue to look at supporting our students with their lives beyond the academy.

Post 16 have taken part in a project to reduce textile waste and work with Liverpool World Centre to establish links with other schools on a collaborative project - Ten Tonne challenge

We worked on the GUAG project explored how sustainable development goals can be used to create excitement and practical action in schools, promoting sustainability and embedding it within school curricula. This was in conjunction with partners from Italy, Portugal, Ireland, Czech Republic, Bulgaria, Romania, Spain, Poland, Netherlands, Hungary and Austria.

We are representing England on the AGES project – a gender equality project.  Two of our amazing teachers, Paula Burke & Donna Tofts, have had the opportunity to present on the work our students have been doing, this time at a conference in Budapest in January 2022.  Read all about the project here: AGES Project

We were awarded the AfA Quality Lead in June 2019 - "Wow! - how impressive, many thanks for this QL submission and all your hard work to pull this wide range of evidence together. The comments from parents are really positive."  Jill Tordoff, AfA     "I want to add my thanks and appreciation to John for the significant amount of work that has gone into creating the Quality Lead form and providing us with links to the supporting evidence. It is of the highest quality that I have witnessed so far in my role at AfA."  Sinead Cannon, AfA

We were invited to become an SSAT Leading Edge School - this project has been on hold due to COVID but we hope to move forward with it over the coming year. 
These are the awards we already hold:
The National Nurturing Schools Award, Rights Respecting Schools Silver Award and Learning Outside the Classroom Gold Mark.