Curriculum
Our Approach to the Curriculum
At Cavendish we aim to provide a curriculum that meets the needs of all our children and young adults offering a broad, balanced, differentiated and relevant education which reflects continuity and maximises progression.
Curriculum Intent 
- Provide a broad and balanced curriculum that meets the needs of our incredibly varied learners 
- Enhance children's confidence and motivation to learn through the use of a range of learning and teaching styles
- Embed key skills in order to prepare children for real-life and everyday situations
- Provide opportunities to apply knowledge and learning in practical ways
- Provide a creative approach to planning and delivery that will incorporate and embed the most relevant aspects of the National Curriculum
- Provide enrichment opportunities where learning and teaching can take place in a variety of ways both within and beyond the classroom
- Develop social skills and encourage children to become more active citizens within the school community and beyond 
 Curriculum Overview
Our thematic curriculum is flexible in accommodating the learning needs of our pupils and is specifically developed to maximise its relevance to everyday life.  It provides rich enhancement for theme-led learning, as well as promoting team-building, decision making and independent learning.  Different pathways allow for appropriate and differentiated levels of accreditation for students of all abilities. The curriculum is enhanced by an excellent range of learning outside the classroom opportunities.
We aim to cultivate a "Love of Learning" in all of our young people and it is firmly believed that a our thematic curriculum, encompassing the most relevant aspects of the National Curriculum, engages pupils in the 'wonder of learning' and supports them in being the best that they can be.
The curriculum is fluid and flexible in its efforts to embrace and meet learners' current and future needs. The emphasis is on  Learning Pathways, which have been developed with all of our young people in mind.
Our Curriculum Model
To ensure curriculum balance is maintained and in order to accommodate a creative approach to teaching and learning, Three colour-coded key strands are woven through the curriculum:
- Creativity (Lilac): To experiment with creative thoughts, ideas and possibilities to innovate. To develop the process of the interchange of thoughts, opinions or information by speech, writing or signs.
- Cognition (blue): To acquire and process knowledge and understanding through: numeracy, creativity, thought, experiences and the senses
- My World and Me (Pink) : To develop an awareness of the world around us and develop ourselves as global citizens. To establish a balance of physical, social, emotional, intellectual, spiritual, environmental and occupational well-being. To develop adaptive and positive behaviour that enables pupils to deal effectively with the demands and challenges of everyday life.
Our subjects are organised into hubs where there is likely to be similar pedagogy. Each subject hub consists of a team of people who are responsible for leading the family of subjects within the hub. This allows us to continually focus on curriculum development.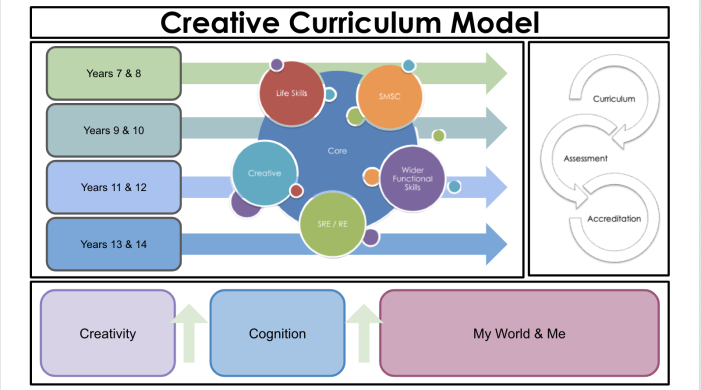 For more information on specific curriculum pathways please contact your child's Head of Departments. 
Lower, Year 7, 8 and SOUL - Paula Burke, Paula.Burke@chs.academy
Upper, Year 9, 10, 11 and 12 - Clair Ball, Clair.Ball@chs.academy
Post 16 - Year 13 and 14 - John Munro, John.Munro@chs.academy